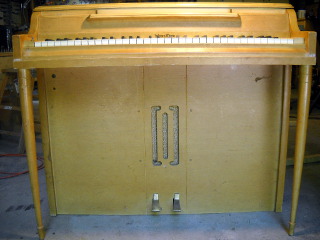 While his KMC 1 has been in my shop, I agreed to take a look at the owner's Wurlitzer 700. I have no experience with these pianos so there's not going to be a bill for this job. I hope instead to gain some familiarity with the Wurlitzer family in case another crosses my path someday.
As far as experience goes however, the 700 is probably not the most productive example. Although it shares an action design with its cousin the 120, neither are nearly as popular as the 200 series pianos which have a significantly different action.
Regardless, it's very interesting to explore the many intricate pieces that work together to convert a keystroke to a hammer blow. It makes the Rhodes seem pretty primitive by comparison.