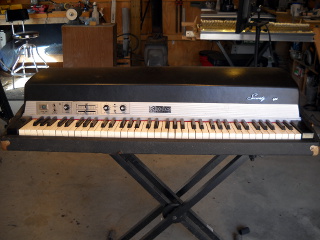 My first piano from 1978 came to me by way of a local music store. Apparently someone rescued this Rhodes from a dumpster and brought it to Blue Eagle Music to sell on consignment whereupon Blue Eagle's owner Frank contacted me.
Unlike all of the Stage model pianos I've worked on up until now, this piano is actually half of a Suitcase model. When 741354 originally left the factory, it was paired with an amplifier that also acted as a stand for the piano. Mainly, this means the piano never had the chrome legs, braces and leg flanges used to support the Stage models. Nor did it come with a stand-alone sustain pedal since a Suitcase's sustain pedal is integrated into the amplifier cabinet. Suitcase pianos also feature a preamp where the Stage's passive volume and tone controls would be located. The preamp is designed specifically to work with the supplied amplifier to provide the Rhodes' signature stereo vibrato effect.
I plan to convert this piano into a typical Stage model. This should be a very simple conversion although I'm unclear whether the cabinet will need to be upgraded to support itself atop four legs rather than an amplifier cabinet.