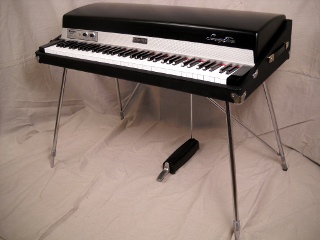 Since this is the first Seventy Three to come to me in working condition, its arrival marks the first time I'd heard or played anything but my old Fifty Four in person. I was amazed by the tone it produced. It was much more complex and expressive than what I could get from my Fifty Four. I immediately rewired the Fifty Four to match the Seventy Three's layout. It helped but so far, I haven't heard another piano make a sound like this one. I may have a hard time letting go when I'm finished restoring it and it may end up replacing my current "house" Seventy Three.
Blog posts about this piano
Restoration costs
Price: $1,500 SOLD
The videos were recorded with the piano voiced in two different ways. While playing the Chopin Nocturne, the piano was set up to produce fewer harmonic overtones. "On a Clear Day" was recorded with a particularly aggressive setup that features more overtones. The piano is currently set as it was for "On a Clear Day" but I would be happy to re-voice it for a mellower tone.