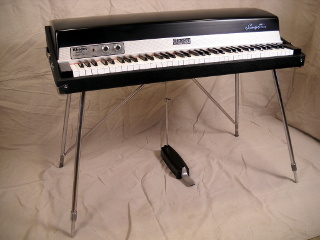 All of the other pianos I've purchased so far have not shown many indications that they've seen much use. Even when the overall condition has ranged from bad to worse, things like hammer tips and key bushings – parts that commonly wear out from use – have so far been the least of their problems. Not so with this piano. This piano has clearly been in the posession of a working musician, specifically a New Orleans-style player up in Columbus, OH. The keys move freely, both up and down as well as side to side on their guide pins. The whole thing creaks and clunks when played. It's covered inside and out with the sort of grunge that can only be accumulated over years spent on barroom stages.
After having a look at the condition under the harp cover, I was amazed to find that the piano actually plays fairly well, although the voicing is all over the place with different tonal qualites and volume levels for every key. Particularly surprising to me is its light, fast action. I did not see any bump or contour on the key pedestals I inspected and without such a shape, Rhodes pianos typically feel very heavy and sluggish.
I'm very much looking forward to digging into this classic workhorse and finding its true potential.
Blog posts about this piano
Restoration costs
Donated to the Athens Rock Camp for Girls