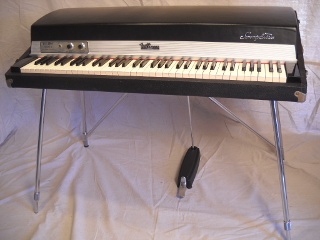 I've decided to open my shop to the public and my first repair job came to me from my friend Melissa. Melissa plays bass for local "Appalachian surf rock" band The D-Rays but she also enjoys time at the keyboard and recently decided to add a Rhodes to her collection.
After watching the classifieds for a few months, a stroke of luck turned up a 1974 that seems to have hardly been used. Inside and out, the piano looks like it's spent nearly its entire life in climate-controlled storage. A few scratches on the harp cover do belie some time spent supporting a second keyboard but the main reason for the piano's visit to my shop was an apparent beverage spill on the treble side. It looks like someone spilled something on the harp cover and the liquid rand down behind the name rail and onto the keys.
Pools of whatever spilled had solidified into thick, hard crusts on the name rail. After trying various solvents and plastic scraping tools to no avail, I was once again reminded of the miraculous work of Simichrome metal polish. Simichrome seems to remove anything from Rhodes name rails but does not disturb the satin finish of the underlying metal at all.
But the spill did more than cosmetic damage. About ten keys and their guide pins were affected. The rusted guide pins and the keys' felt bushings needed to be replaced.
In addition to the repairs the Miracle Mod was installed.